Your donations helped us to grow our impact!
Our mission to provide high quality dance education opportunities to communities and young people with limited access to the arts is only possible because of your support.
For nearly 10 years, together we have kept that promise and opened doors for over 40,000 students ages 5-18 to dance toward a future rife with opportunities. With your support, FMC continues to:
Partner with 50 schools and organizations providing in-school/after-school programs
Provide FREE Saturday classes throughout the year in two locations for over 100 students each semester
Bring a conservatory style, 6-week summer dance camp to nearly 200 students each year
Mentor high school students through a college and career readiness program, FMC Dance Collaborative, with After School Matters
Perform in some of the city's most notable dance presentations including, Chicago Black Dance Legacy at the Pritzker, Fresh Fest at Navy Pier, and Chicago Live!
We still need your support since FMC is poised to expand our programming to reach an even greater number of students on 2023. You can help us get there! Every donation we receive is crucial to helping us expand our impact to more youth. We hope you'll consider making a donation of any size to support FMC's vital work in the community. With your help, we can continue to bring dance to thousands of children and help them see and seize new opportunities one dance step at a time!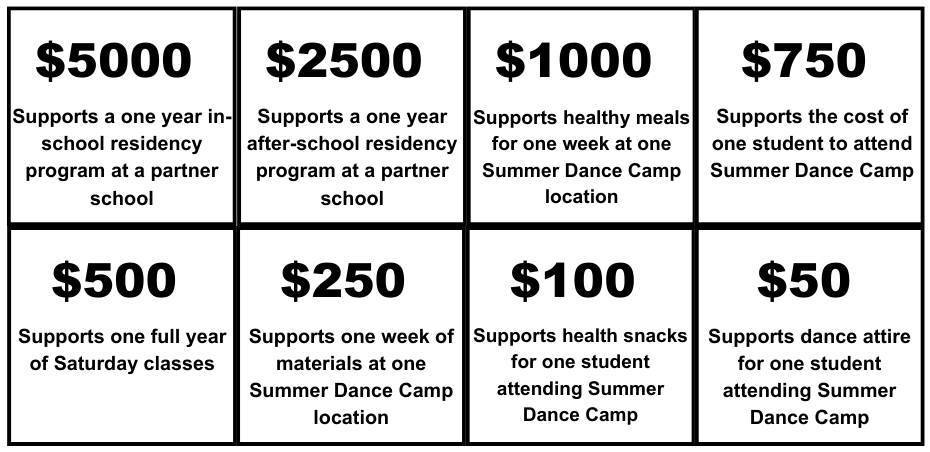 Thank you! Your gift ensures that we continue to bring dance to children in Chicago who need it most.